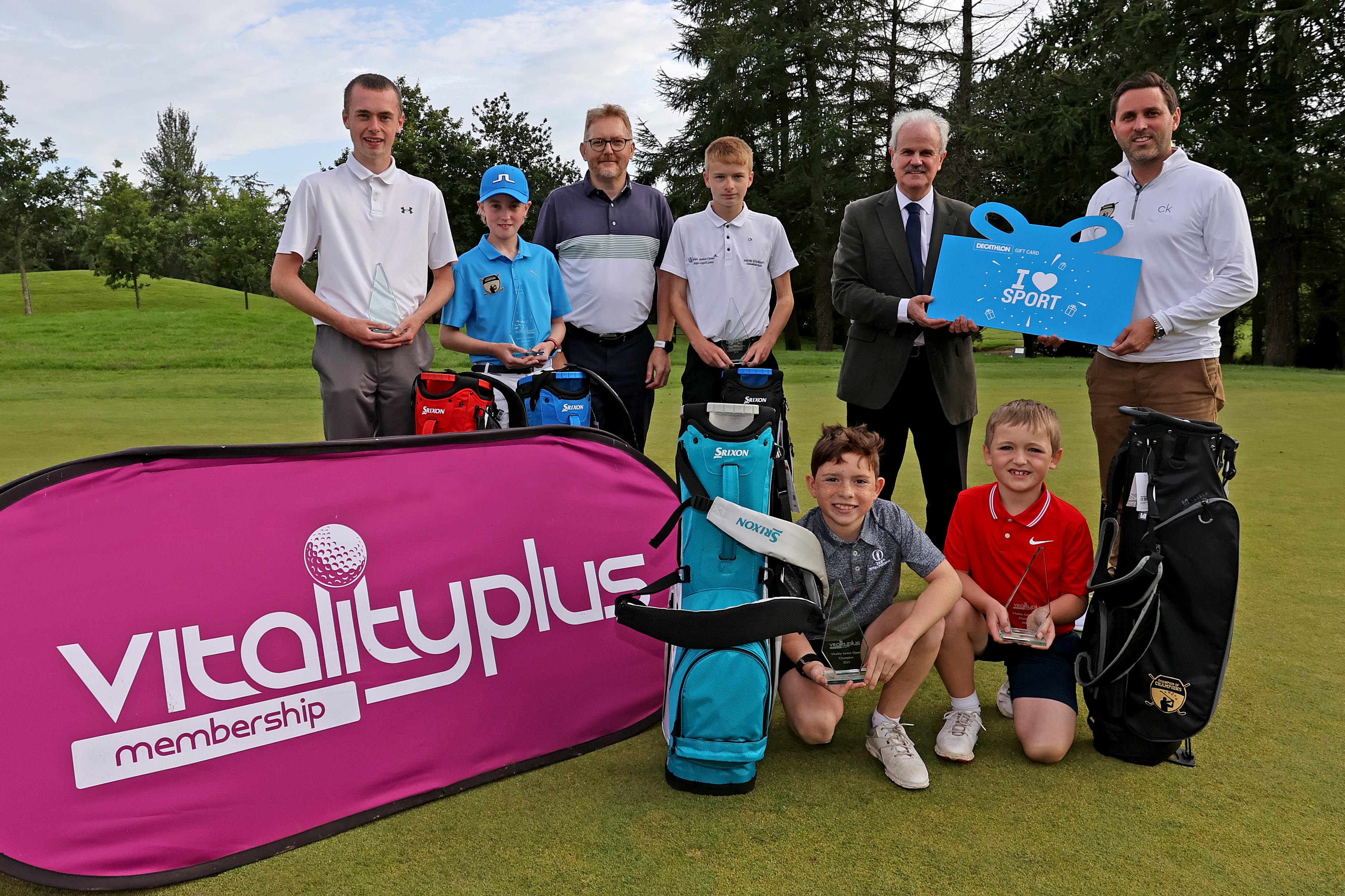 CASTLEREAGH HILLS GOLF COURSE HOSTS SECOND VITALITY JUNIOR OPEN
August 14, 2023
Following the success of the first Vitality Junior Open last year, Castlereagh Hills Golf Course was delighted to see the return of the competition which took place on Friday 11 August 2023.
Lots of young and enthusiastic golfers have teed off at the second Vitality Junior Open Tournament in association with Decathlon. The event attracted young golfers aged 7-19 years from clubs across Northern Ireland.
Over 50 young people participated in the prestigious competition, which is now becoming a firm favourite in the annual golfing calendar.
The under 9 section was won by Louis Harvey from Greenacres Golf Club.
Senan Devlin from Cloverhill GC achieved a fantastic 1st Gross and Jonah Lyttle from Spa Golf Club 1st Nett in the Under 11 category.
Henry Campbell from Holywood Golf Club successfully won 1st Gross in the under 13's section with Cara Pearson from Killymoon Golf Club achieving 1st Nett.
The older age groups were keenly contested with Evan Pepper from Lurgan Golf Club lifting 1st Gross in the under 15's category and Rachel Seeds from Knock Golf Club winning 1st Nett. Jack Magee from Holywood Golf Club achieved the Under 19 win in the 1st Gross section and Heidi Seeds from Knock Golf Club 1st Nett.
Presenting the trophies, Councillor Thomas Beckett, Chair of Lisburn & Castlereagh City Council's Communities & Wellbeing Committee said,
"I am pleased to welcome so many golfers back to Castlereagh Hills Golf Course for the second year of the Vitality Junior Open.
"Following the great success of the competition last year, it is encouraging to see the event so well attended by junior golfers from a wide range of golf clubs.
"The talent on display here today from the young golfers is testament to the commitment and support received from their home clubs. Competitions are an encouraging way for young golfers to increase in confidence on the course and test their skills against other players of similar ability levels, whilst helping to develop a competitive mind-set.
"I would like to extend my gratitude to Decathlon for kindly sponsoring some of the prizes for the second year in a row and to Michael Gallagher PGA Professional for coordinating the competition. Their support is paramount in delivering such a prestigious event.
"Congratulations to everyone who took part in the competition. I look forward to welcoming you back to Castlereagh Hills Golf Course for future events or a round of golf with your family."
For further information on Castlereagh Hills Golf Course, please telephone 9044 8477.