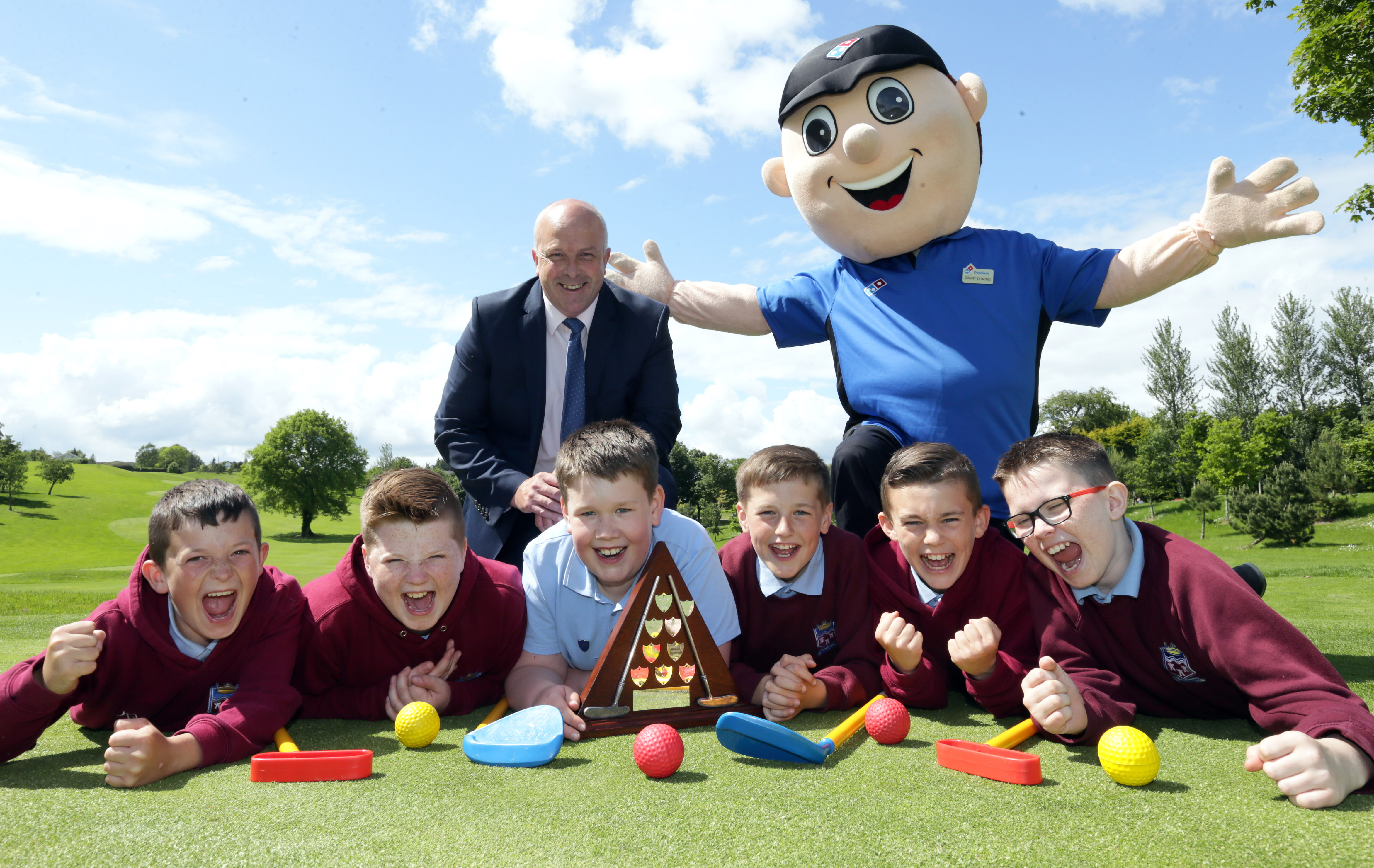 PRIMARY SCHOOL GOLF EVENT 2019
June 11, 2019
Almost one hundred children from 12 primary schools have enjoyed a day out from the classroom to take part in a unique golfing day held at Castlereagh Hills Golf Course on Tuesday 11th June.
Sponsored by Domino's Pizza, Eastpoint Entertainment Village the aim of the golf day was to introduce children to golf through a series of fun workshops which promoted exercise, healthy eating and the basics of golf.
The event commenced with all children participating in a range of health and sports related workshops to promote the importance of leading a healthy lifestyle. There was also an educational workshop from Barnardo's NI as well as a massive fitness class on the 18th fairway and an archery challenge for the children to enjoy.
PGA Golf Professional, Mr Steve Richie led a golf swing and putting workshop in tandem with Roy Leonard from the Confederation of Golfing Ireland providing a fun introduction to the world of golf. The day then culminated in the afternoon with a schools' golfing competition, where the children put their newly developed skills to the test to compete in the 'Castlereagh Hills Challenge Cup'.
Speaking at the event, the Chairman of the Council's Leisure & Community Development Committee, Alderman James Tinsley said, "The golf day is a fantastic platform to bring children together to represent their school and experience a new sport. As part of the programme the children not only participate in golf sessions but they also have the opportunity to enjoy many educational health and fitness workshops which will hopefully inspire many to engage in physical activity and lead a healthier lifestyle.
"I would like to take this opportunity to thank local businesses, Domino's Pizza, Hillmount Nursery, Rodgers Meats, Belfast Health & Social Care Trust, Barnardo's NI, Decathlon, the Council's Every Body Active 2020 coaches and Sinnamon Bistro for kindly supporting this great initiative.
"Finally I would like to thank all the Golf Club members that volunteered to assist with the event and to the schools for taking part in the competition. I hope to see many of the children here today back on the golf course to practice their new skills."
The best girl award was won by Amelia Mayne from Penrhyn while the best boy was won by Ben Brown from St Ita's Primary School. The eagerly awaited school team award was won again by Brooklands Primary School with Penrhyn following closely behind in 2nd place and Carryduff Primary School achieving 3rd place.
Event sponsor, Domino's Pizza, Eastpoint Entertainment Village were delighted to support the event. Christine McReynolds, Marketing Manager commented, "We are extremely delighted to sponsor such a great event. It is important that we all take the necessary steps to encourage young people to get active and maintain a balanced lifestyle. I have enjoyed meeting the children and teachers today and watching the action on the course."